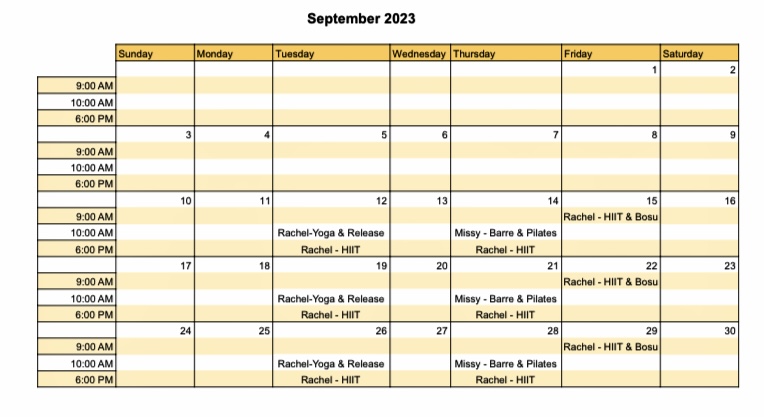 Julie Berg: Julie is our primal movement specialist. During this series, Julie's classes will be a combination of the 5 primal movements and NIA, a non impact aerobic flow that keeps your body fluid and open. Her classes will be active recovery and corrective exercise based. Julie is available for you to schedule  NIA and health coaching sessions that allow the body to expand and release the physical and emotional patterns in our body, which is key to any type of healing. We highly encourage you to schedule a session with her during the series. 
Anne Scott: Anne is an extraordinary yoga and wellness coach with many years of teaching under her belt. Join her this series for Power Yoga in the evenings. This class will keep you safe and in correct alignment, while also building strength and endurance in yoga poses. Plan to feel muscles you never knew existed while also feeling increased mobility and circulation. 
Missy Mihelich: Missy is our Barre specialist at the clinic. While barre incorporates smaller movements, often paired with resistance bands, blocks or balls, do not be fooled. This method of training is very corrective exercise based and will have you feeling muscles you never knew you had. This is key for any form of rehabilitative training and should be incorporated in all corrective programs. The exercises are gentle enough and can be modified for all levels. Missy is available to schedule one on one Barre sessions during this series.
Dr. Amber Golshani: Amber is a brilliant Naturopathic Doctor who helps our clients to achieve a balanced and healthy life through movement, food, coaching, etc. Her abilities seem endless as she is also teaching HIIT classes for this session of Focused Fitness Classes. Be ready to work on strength of the physical and mental body while doing her 30-40 minutes workouts on Fridays.  If you would like more information on how to work with her outside of classes, please call our main office. 
Rebecca VanDover: Rebecca is new to our team at Fit Instincts but not new to corrective and functional movment. She moved back to Pueblo from New York City, where she was involved in the dance community performing and creating her unique choreographic works, to share the Gyrontic Expansion System with the community. So what is Gyro...

The GYROTONIC®Method is a unique movement method that addresses the entire person by opening energy pathways, stimulating the nervous system, increasing range of motion, and improving strength and movement efficiency. Each movement flows into the next, allowing the joints to move through a natural range of motion without jarring or compression. These carefully crafted sequences create balance, efficiency, strength and flexibility. The method also utilizes specialized equipment to guide, assist, and challenge the exerciser.

People from all walks of life take GYROTONIC® and Gyrokinesis classes, including fitness enthusiasts, senior citizens, accomplished athletes, and people recovering from an injury or dealing with a disability. The exercises help athletes improve their performance, and rehabilitation clients recover more quickly and fully post injury.
Rachel Kutskill: Rachel is responsible for coordinating our wellness programs at the clinic as well as working within the full spectrum of the corrective exercise continuum. Her experience lies in correcting dysfunctional movement patterns by finding the root cause as well as the kinetic chain response it has on the body. During this series, Rachel's classes will be both active recovery and corrective exercise. She will teach a Gentle Yoga and SMR, which stands for Self Myo-Fascial Release on Active Recovery days. This combination teaches you the acupressure and trigger points to release and target common chronic pain points, and then lengthen the muscles with a gentle yoga and release session. Her other class will focus on strength, endurance, and BOSU classes during the HIIT days. Get ready for higher intensity with many modifications for all to participate. 
Paris Latka: Paris does most of our inhibit and release work at the clinic through Kinetix. This form of movement allows the fascia to regenerate, hydrate and bounce back to the supple body we had as a young, free moving child. Her expertise in the boundless understanding of how the fascia works like an organ in the body and the intricate layers of it's connection to the physical and emotional self, is unparalleled. Her classes will be based on another release and corrective technique called Bowspring, a type of enhanced alignment based practice. This will be a slower class with intense focus on proper body alignment and mechanics. Paris is available for you to schedule one on one bowspring sessions, a form of alignment and movement that follows the natural curvature of the spine, as well as one on one Kinetix sessions, which is highly encouraged during the  series.
Tinece Riley: Tinece specializes in the integration work of pairing corrective exercise together with every day functional movement training. During this series, Tinece's classes will combine multiple forms of exercises to get your heart rate up, work the muscles in a safe and functional way, while building muscle and strength. Although her classes are meant to push you, Tinece offers ways to modify each exercise which to make it more or less challenging, depending on what your body needs for the day. Tinece is available for one on one personal training and is a women's health specialist focusing on the specific needs women's bodies have during and after pregnancy as well as menopause. 
Emilie Pomerleau: Emilie is experienced in many forms of movement and finds her focus to be on alignment through yoga. During this series, Emilie's classes will incorporate breath work, active recovery methods, and core/foundation work to build a strong, stable and balanced base in the body to enhance your quality of life. Her classes will be active recovery and corrective exercise based. Emilie is available for you to schedule mountain bike lessons, one on one yoga sessions and respiratory/breath work to strengthen the capacity of your lung capability while increasing core strength. **UPDATE: Although Emilie is not currently working from our clinic, you can find her online at Everyday Adventures.